Driving Impressions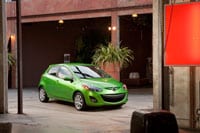 The 1.5-liter four-cylinder engine in the new 2011 Mazda 2 is among the smallest gasoline engines on the U.S. market, but it is tuned in such a way, and the drivetrain is geared in such a way, that it performs more than just adequately. The engine is mounted in such a way as to cancel the usual fore-aft rocking motions that most front-mounted, front-wheel-drive four-cylinder engines have.
We found the Mazda 2 engine is gutsy at the bottom end and delivers good power throughout the rev range. It sounds good at the top end, and it's not buzzy. The throttle, which is drive-by-wire, has been tuned for very aggressive throttle tip-in, and these functions taken together make the Mazda 2 a hoot to drive. Yet it doesn't create on-off lurches related to the throttle pedal.
The clutch and transmission performed very well during our drive around central California from Monterey to Santa Cruz and back through some very twisty country two-laners and up and down the freeways.
The engineers redesigned the entire braking system for lighter weight, but also improved functionality, and there is very little dead space in the brake pedal before braking starts, a feature which we particularly liked. Brakes are front disc, rear drum with ABS, EBD, Brake Assist.
The suspension underneath is fairly conventional, with MacPherson struts in front and a trailing-arm twisting-beam rear suspension, but in the redesign, the engineers have done some interesting things with the suspension mounts and bushings that yield a much flatter ride through high-speed corners and quick-reacting suspension that doesn't make a lot of noise or transmit a lot of bumps and humps to the seats inside the car. The power steering is electric, not hydraulic, mounted on the upper steering column, and reacts to steering inputs very positively, without lag or confusion.