Walk Around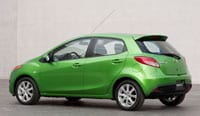 For 2011, Mazda 2 has been given a substantial cosmetic makeover, with every panel on the car replaced by newer and flashier sheetmetal. Along with that are a new upper and lower grille design, new hood, new fenders, new lamps, new bumpers and air intakes up front, with body-colored door handles all around, new taillamps, liftgate, and wheels.
The new Mazda2 has very large, fully integrated halogen headlamp units that flow around the front corner into the fender, creating a line that goes up over the heavily bulging front fender like other Mazdas and then all the way to the rear of the car through the centerline of the body. The lower body is heavily sculpted with an upswept line starting just behind the tucked-in front tires and extending up and over the rear wheel wells. With the five-point lower grille and the five-point rear window glass, this couldn't be anything but a Mazda, mimicking as it does the Mazda 3, 5, 6, 8, CX-7, and CX-9 in its front and rear layouts. The Mazda 2 Touring version adds front fog lamps and a rear roof spoiler.
Interior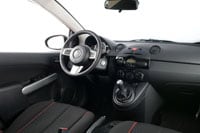 The 2011 Mazda 2 features an all-new cabin. We found the seats comfortable and supportive.
The three-spoke steering wheel has a thick rim and a thickly padded round hub flanked by redundant switches for the sound system on the left and the cruise control system on the right, and we think it's the best steering wheel in the segment for its functionality and design. The steering wheel is meaty to hold onto, and the combination of a tilt steering column and adjustable seat height make for easy adjustment before setting off. The shifter, whether manual or automatic, resides in the bottom center of the instrument panel where the center console would be (there is one, though optional at extra cost).
The instrument panel, seat trims, door panels and door pockets have all been redesigned for 2011 more comfort and utility. The instrument panel, center stack, switches and controls have all been redone for the 2011 models.
The instrument panel is built around a continuous horizontal line, which makes the narrow cockpit seem wider than it really is. The instrument package contains the usual three-round-gauge package, and is put together in an unusual but pleasing way, with a second large, round binnacle in the center of the instrument panel to house the sound system's various readouts, with the CD slot above and a three-dial HVAC control panel just below the readout binnacle. Surprisingly, we found no USB port.
Cargo capacity of the Mazda 2 is 13.3 cubic feet behind the 60/40 split folding second seat, and 27.8 cubic feet with the second seat folded flat.