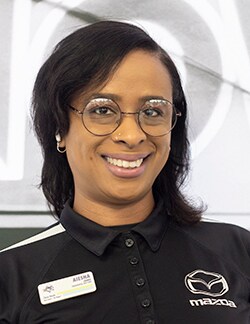 When Aiesha Jones joined the Classic Mazda team, she was looking for an opportunity to thrive, and what she found was a second family.
In 2009, Aiesha applied to work in the office at Classic Mazda. Three months later, the service manager recommended trying out the role of service advisor. She followed his advice and started a great career. To this day, she excels at her role, with her loyal customers giving her some of the highest CSI scores in the company. The people she works with, especially the service manager Julie and general manager Chad, appreciate the level of service she provides, encouraging her to be a mentor to other service advisors.
Aiesha once had a career in the beauty industry, but she finds her career with Classic Mazda more rewarding. Working for Mazda gives her the opportunity to reach a diverse group of people and give each one a valuable customer experience. Aiesha has shown that she appreciates Mazda as much as Mazda appreciates her loyalty and commitment.

This job has allowed Aiesha to have a work-life balance. For anyone looking to start a career in the automotive industry, Aiesha says the keys to success are having a positive attitude, giving an experience you would expect to be given, and working to build long-term relationships. The ability to multitask and overcome objections is equally important. Aiesha looks forward to these challenges daily and embraces them. She takes pride in her positive outlook.
"I'm proud of being a positive person in a crazy world," Aiesha said.
With positivity and patience, she has found success in starting a family and starting a career.