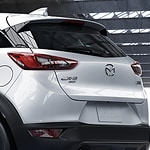 The new Mazda CX-3 has the design features that highlight why this vehicle is one of the most popular subcompact crossovers available to new car buyers today. Find out why this powerful and visually appealing vehicle can be the ideal choice for you and your family today.
One of the main reasons that this subcompact crossover is so popular with buyers today involves its sophisticated design. Its sleek exterior combined with its leather-trimmed, roomy and comfortable interior makes it one of the most luxurious crossovers in which to ride or drive. It also comes with innovative technology that you expect to find in any high-quality subcompact crossover today. It comes standard with Mazda Connect services that you can use for everything from playing your favorite playlists on your smartphone to navigation and making hands-free phone calls.
It also has an active driving display. This display lets you keep track of mileage and gas use, among other details.